Online Learning Principle Film | London College of Style by London College of Style

https://ift.tt/2RdwRD1



Uploaded 2020-03-31T11:43:08.000Z
Talk of the Towns: Feb. 6, 2020 - The Recorder
Get link

Facebook

Twitter

Pinterest

Email

Other Apps
---
Talk of the Towns: Feb. 6, 2020 - The Recorder
Posted: 05 Feb 2020 02:33 PM PST
Athol
Smoking Cessation: Led by Tim Sweeney, tobacco treatment specialist. Meets Mondays, 6 to 7 p.m. Athol Hospital's cafeteria.
Colrain
"Love Colrain" Valentine's Day lasagna dinner will be served Feb. 14 at the Shelburne-Buckland Community Center, 53 Main St. in Shelburne Falls. The Colrain Historical Society is accepting reservations until Monday, Feb. 10. The dinner, created by chef Kevin Hollister from his own recipes for both meat and vegetarian lasagna, will be served buffet style from 6 to 7:30 p.m. The meal will include salad, rolls, ice cream and strawberries, Colrain cider, coffee and tea. For reservations, call Debby at 413-624-8800 or Belden at 413-625-2003. Seatings are $12.50 each; pay at the door.
The Community Clothes Closet at 83 Foundry Village Road will be open every Saturday from 11 a.m. to 3 p.m. It will be open through Dec. 14, and resume in early April. Residents of all towns are welcome. Clothes are free and suit all ages. The closet accepts donations of clean clothing, which can be delivered anytime at the building's rear. Contact Linda Wagner at 413-625-6157 or Sarah Looman 413-625 6169 for more information.
Greenfield
Degrees: Greenfield residents Jamie Koscinski and Aliona Cheptea earned bachelor's degrees in nursing from Western Governors University (WGU) in Salt Lake City. The online, nonprofit university has graduated more than 167,000 students from across the country since 1997.
Leverett
Potluck Dinner and Family Game Night: The Leverett Congregational Church will host a potluck dinner (bring a dish to share) Saturday at 6 p.m. at Leverett Town Hall, 9 Montague Road. Dinner will be followed by a variety of fun family games. Free and open to the public.
Northfield
Northfield Senior Center: "An Accidental Wedding!" An original comedy by Steve Henderson, local playwright, will be performed Sunday at 1 p.m.
Food Pantry: The community food pantry is open the second and fourth Saturdays of the month from 11:30 a.m. to 2:30 p.m. The pantry is in the basement of Dickinson Memorial Library, 115 Main St.
Orange
The Cellar Closet at Central Congregational Church of Orange, 95 South Main St., will be open every Saturday from 9 a.m. to noon. Volunteers have been accepting and arranging clothing for women, men and children, along with jewelry and accessories, shoes and household items. All items are reasonably priced and special sales are offered occasionally. For information, call 978-544-6895 or email orangecongregationalchurch@gmail.com.
Sunderland
Serendipity Shop: Saturdays, 9:30 a.m. to 2:30 p.m., Congregational Church basement. Men's, women's and children's clothing, shoes and sneakers. Most items $1. Men's suits and all coats, $3. Women's suits, $2. Donations accepted. Proceeds to benefit the church. 413-665-2890.
Turners Falls
Musica Franklin Performance: Saturday from 10:45 to 11:30 a.m. at Greenfield Savings Bank, 282 Avenue A. Elementary and middle school students from Turners Falls and Greenfield will join in a concert performed in GSB's community room. The students are part of Musica Franklin, a free intensive after-school program open to any student in Franklin County. Their voices and violins will unite with both classical and traditional music from around the world. Light refreshments provided by GSB.
Franklin Area Survival Center: 96 Fourth St., 413-863-9549. The thrift store, which is open to the public and helps finance the food pantry, is open Monday through Saturday, 10 a.m. to 5 p.m. The food pantry is open Monday through Friday, 10 a.m. to 1:30 p.m. In an emergency, such as a fire or flood, the center will supply needed clothing, linens and food to help the disaster victims.
Regional
Helpful Programs at LifePath: LifePath provides assistance with light homemaking, home-delivered meals, personal care and adaptive equipment. Caregivers can take a break to de-stress with LifePath's respite services. In addition, the Consumer Directed Care Program allows elders in need to select their own caregiver — perhaps a friend, neighbor or even a family member — who can be paid through this program (excludes spouses). For more information, email info@lifepathma.org or call 413-773-5555 or 978-544-2259. Read more at lifepathma.org.
Serving the Health Insurance Needs of Everyone (SHINE): SHINE counselors are volunteers who provide free, unbiased health insurance information, education, and assistance to Medicare beneficiaries and adults with disabilities to help people figure out what their best health insurance options are based on their unique needs. Contact a SHINE counselor at LifePath at 413-773-555 or 978-544-2259. Email info@lifepathma.org or learn more at lifepathma.org.
Vigil for Racial Justice Every Saturday, 9 to 10 a.m., on the Greenfield Common. Bring your own sign or use one of ours. For more information: email@racialjusticerising.org.
Eventide Singers: Offering songs of hope and healing for seriously or terminally ill people, their families and caregivers. The service is offered in homes, hospitals and care facilities, without charge. The music can be selected in response to spiritual preference. For more information, visit eventidesingers.com or call Marcia Schuhle at 413-774-2335 or Joe Toritto at 413-774-5828.
Straight Spouse Support: One-on-one support for straight individuals currently or once married to lesbian, gay, bisexual or transgender partners. Confidential helpline at 413-625-6636 or email jcmalinski48@gmail.com.
Help the Blind: Your car, truck or camper may be worth more as a donation than a trade-in. Call the Massachusetts Association for the Blind at 888-613-2777 for details. Old lawn mowers are also accepted. Donations are tax-deductible and towing is free. Proceeds benefit blind and vision-impaired people in Massachusetts. Alternatively, email Barbara Sciannameo at barbaras@mabcommunity.org.
Submit items to Talk of the Towns: https://www.recorder.com/Reader-Services/Contribute/Submit-to-Talk-of-the-Town
Bethlehem Library Notes for Wednesday, February 5, 2020 - The Altamont Enterprise
Posted: 05 Feb 2020 12:26 PM PST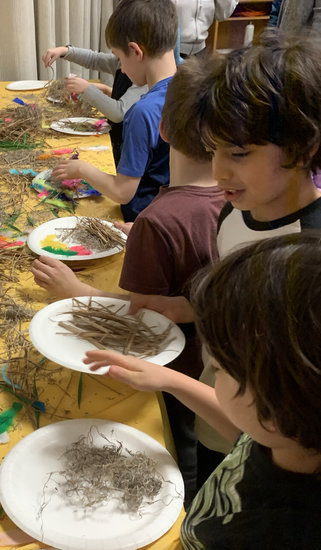 Warm up to the second half of our popular winter concert series, A Little Sunday Music, which resumes Feb. 9, at 2 p.m. at the Bethlehem Public Library with flautist Melanie Chirignan, accompanied by pianist Michael Clement.
Chirignan is known for her musicality and versatility of repertoire. As an orchestral player, she has performed with the New York Chamber Players Orchestra, Albany Pro Musica, Octavo Chamber Orchestra, Glens Falls Symphony Orchestra, Garden State Philharmonic, and others. She has also performed with jazz bass legend Nat Reeves, traditional Irish harpist Hailey Hewitt, and the Philadelphia Fife and Drum Corps.
Chirignan earned her bachelor's degree in music performance and music education, graduating magna cum laude from the State University of New York College at Fredonia. She earned her master's degree in flute performance at the Hartt School. She has taught general music, chorus, and orchestra, and has taught every level from elementary school to conservatory-level students.
Pianist Michael Clement has served as staff accompanist and vocal coach for Skidmore College and The College of Saint Rose. He has been on the music staff for Opera Saratoga, Long Beach Opera, and the Florentine Opera. Currently, he is the pianist for the Mendelssohn Club of Albany, is Minister of Music at Emmanuel Baptist in Albany, and performs in venues throughout the Northeast.
A Little Sunday Music wraps up the 2019-20 series on Sunday, March 8, with the Musicians of Ma'alwyck, a popular local chamber ensemble specializing in music performed in America during the 18th and 19th centuries.
A Little Sunday Music is sponsored by the Friends of Bethlehem Public Library.
Castellani visits
Our book discussion groups always have room for one more reader, and with a variety of meeting days and times, there's sure to be a group that fits your schedule.
Coming up on Tuesday, Feb. 11, the library is holding a special AfterDinner Books discussion about "Natalie's Wars" by Paul Castellani featuring a visit from the author himself! The novel tells the story of a woman who struggles through World War II on the homefront and in the years after with a husband suffering from the psychological fallout of war. Castellani, a university professor and Capital Region writer, has published numerous articles on public policy, and "Natalie's Wars"is his second novel. His first was the well-reviewed "Sputnik Summer," detailing life in the Adirondacks in the late 1950s. AfterDinner Books meets every other month on a Tuesday at 7 p.m.
Book Discussions
Daybooks, our afternoon discussion group, meets at 1:30 p.m. on Monday, Feb. 10, or Thursday, Feb. 13, to discuss "The Library Book" by Susan Orlean. Daybooks meets twice a month, every month.
Check 'Em Out Books, which alternates every other month with AfterDinner Books meets next on Monday, March 2, at 7 p.m. to talk about Jeannette Walls' "Half Broke Horses."
Discussions are facilitated by Bethlehem librarians, who carefully select books spanning a variety of topics and genres. Pick up a bookmark or visit us online at www.bethlehempubliclibrary.org/programs/adult/book-discussions for additional 2020 titles.
Cellist Eunghee Cho and friends to perform romantic Valentine's Day concert - Davis Enterprise
Posted: 05 Feb 2020 12:59 PM PST
Cellist Eunghee Cho, a 2012 graduate of Davis High School, returns to his hometown for a concert of romantic music on Valentine's Day (Friday, Feb. 14) at 7:30 p.m. in the Melon Ball performance space at Watermelon Music, 1970 Lake Blvd., Suite 1.
After graduating from DHS, Cho earned a bachelor's degree in cello performance at the University of Southern California's Thornton School of Music and then completed a master's degree in cello performance at the New England Conservatory of Music, where he is now pursuing a doctorate.
Cho will perform alongside two similarly young musicians.
Japanese-born pianist Tomomi Sato has studied at USC and at The Juilliard School in New York. Sato won the Seattle International Competition in 2013 and is a staff pianist at The Juilliard School's college and pre-college divisions.
Violinist Tatjana Roos, born in London, has studied at the Royal Academy of Music, the Yehudi Menuhin School and the New England Conservatory.
Cho established the Mellon Music Festival in Davis in 2017; Roos and Sato were featured artists in 2018 and 2019.
On the program will be mostly Romantic-era European music  from the 1800s, plus one American selection from the first half of the 20th Century:
* "Three Romances" for violin and piano, composed in 1853 by Clara Schumann, who was married to composer and conductor Robert Schumann and was a longtime friend of the pianist and composer Johannes Brahms. Schumann's deteriorating mental health led to his voluntary commitment to a mental asylum in 1854, where he died in 1856 (at age 46). Clara, who regarded Robert as the love of her life, never remarried.
Brahms remained a lifelong bachelor, but Clara Schumann and Johannes Brahms remained close friends and musical associates for the rest of their lives.  Brahms would show his new scores to Clara and seek her opinion and Clara performed the premiere of a number of Brahms' piano works. Clara died in 1896 at age 76 and Brahms died in 1897 at age 63.
* The Jascha Heifetz arrangement (for violin and piano) of selections from the George Gershwin opera "Porgy and Bess." Gershwin's opera premiered in 1935 and Gershwin died in 1937 at age 38. The Heifetz arrangement was completed in 1944.
* The "Introduction and Polonaise Brillante" of Frédéric Chopin, one of his comparatively early works for cello and piano that was published in 1831. A few years later, Chopin began a romantic relationship with the French novelist George Sand (a woman about six years older than Chopin who preferred to wear gentleman's attire in public and smoked cigars). Chopin was already ailing from tuberculosis at the time he met Sand; he died in 1849  at age 39.
* The Piano Trio No. 1 in D minor by composer/conductor Felix Mendelssohn, completed in 1839, the year that he turned 30. It remains one of his most popular and is highly regarded by critics (including Robert Schumann, who heard an early performance of the piece and dubbed Mendelssohn "the Mozart of the nineteenth century."
Mendelssohn married Cécile Charlotte Sophie Jeanrenaud (the daughter of a French clergyman) in 1837 and they had five children. Mendelssohn was introduced to the Swedish soprano Jenny Lind in 1844 and he was so taken with her that he began composing an opera with her in mind and sending her passionate love letters. Mendelssohn's extremely busy work schedule, compounded by the devastating loss of his sister Fanny due to a stroke in 1847, sent Felix Mendelssohn's health into a swift decline. He died (after a series of strokes) at age 38, just six months after his sister; Schumann was one of the pallbearers at his funeral.
In 1849, Jenny Lind established the Mendelssohn Scholarship Foundation (awarded to promising young composers). Mendelssohn's wife Cécile died in 1853 at age 36, about five years after her husband. Lind enjoyed a long and prominent musical career and died in 1887 at age 67.
* The concert will be topped off with additional "classic love song favorites."
Tickets are $15 if reserved in advance online and $20 at the door. There are also free tickets for "kids and students," which must be reserved online in advance at www.mellonmusicfestival.com.
Related
John Michael Kane, 81, led young adult music programs for decades - Port City Daily
Posted: 05 Feb 2020 08:00 AM PST
WILMINGTON — John Michael Kane, 81, went to be with his Lord and Savior Sunday, Feb. 2, 2020.
He was born May 10, 1938, in Jersey City, New Jersey, to Ella Kane Hogan and Vincent Kane.
He was preceded in death by his father, Vincent Kane; mother, Ella Kane Hogan; stepfather, Howard Hogan; baby brother, Vincent; brother, Dennis B. Kane; and nephew, Michael Kane.
He is survived by his loving wife, Anne Paquin Kane; four children, John (wife, Tracy), Kathleen (husband, Jeff), Christine (husband, Todd) and Thomas (wife, Mary Nell). He was a wonderful, loving grandfather/papa to his nine grandchildren, Meghan, Anna, John Patrick, Nicholas, Ryan, Ellie, Katie, Olivia and Eliza. He is also survived by his sister-in-law, Mary; nephews, Patrick (wife, Meaghan and six children), Andrew Kane, Chris Kane (wife, Michelle); and niece, Debbie Kane Mullen (husband, Paul).
He attended St. Francis Xavier Military Academy, St. Peter's Pre-engineering College, University of Detroit, Newark College of Engineering and Columbia University in New York City, where he earned a Master's Degree in Chemical Engineering. He was a member of Omega Chi Epsilon Honor Fraternity.
He was a dedicated employee of Pfizer Pharmaceuticals, starting in 1963. He assisted with the design and start-up of the Pfizer Citric Acid Plant in Southport.
The family moved from Old Lyme, Connecticut, to Wilmington in 1974. He retired as plant manager after ADM bought the Southport Plant from Pfizer and started his own consulting company, Manufacturing Consulting Associates.
He was a devoted Catholic. He led contemporary, young adult music programs for decades in Connecticut, as well as St. Mary's Catholic Church in Wilmington. He was currently a member of St. Marks Catholic Church. One of his favorite songs was "This little light of mine…let it shine, let it shine, let it shine."
His education with the Jesuits at St. Francis Xavier High School defined how he lived. He often said they taught him to be a "man for other men." That showed throughout his work, family, friends and church life. His greatest joys were being with his family, sharing his love of music, cheering for North Carolina State and fishing in coastal North Carolina.
In lieu of flowers, the family requests donations in the name of John Kane to Xavier High School's Annual Fund or Lower Cape Fear Hospice.
The family will receive friends from 6 to 8 p.m., Friday, Feb. 7, at Coble Ward-Smith Funeral Home, 3915 Oleander Drive, Wilmington. A funeral Mass will be held at 8 p.m., Saturday, Feb. 8, at St Mark's Catholic Church, 1011 Eastwood Road, Wilmington, with Father Daniel Oschwald officiating.
Share online condolences with the family at Coble Ward-Smith Funeral & Cremation Service.

Get link

Facebook

Twitter

Pinterest

Email

Other Apps
Popular posts from this blog