Online Learning Principle Film | London College of Style by London College of Style

https://ift.tt/2RdwRD1



Uploaded 2020-03-31T11:43:08.000Z
The New School Launches New Masters in Music Degree For Performers/Composers - Broadway World
Get link

Facebook

Twitter

Pinterest

Email

Other Apps
---
The New School Launches New Masters in Music Degree For Performers/Composers - Broadway World
Posted: 03 Feb 2020 10:49 AM PST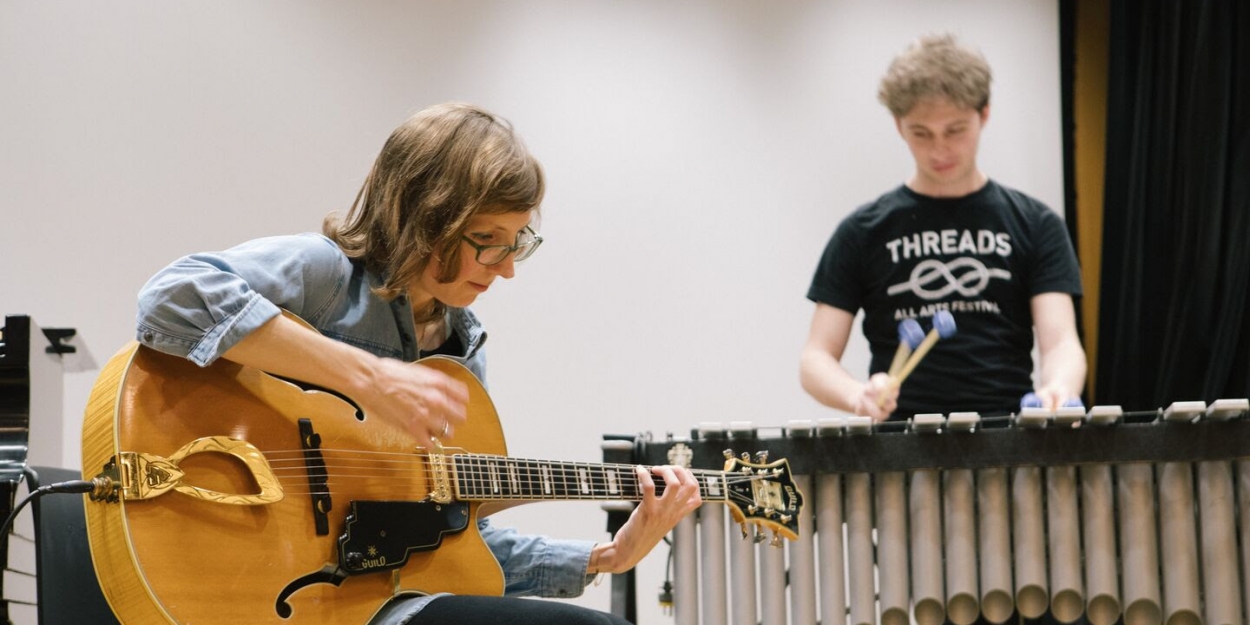 The New School's College of Performing Arts (Mannes, Jazz, Drama) today announced a new master's degree for creative musicians, the MM: Performer-Composer. Designed as an alternative to traditional music degrees that are highly specific to genre or category, this new program supports multi-disciplinary artists in all styles and genres of music-making.
"Our work on the new MM: Performer-Composer began with a question: What does a degree look like that is designed in the mold of creative music pioneers of the past and present like Bach, Bernstein, Coltrane, Ellington, or
Meredith Monk
?" said
Richard Kessler
, Executive Dean of The College of Performing Arts. "We are making a space that is modeled after these kinds of artists, a space where there are no barriers between disciplines and genres, and where experimentation is central to everything. With the new MM: Performer-Composer, we are inviting young artists to try new things, create new sounds and forms, and to see their own creative potential in broader ways."
MM: Performer-Composer students perform in self-organized ensembles, choose private instructors from a list of hundreds of New York-based creative musicians, and work side-by-side with leading contemporary music ensembles in residence at Mannes and New School Jazz, including JACK Quartet, Vanguard Jazz Orchestra, International Contemporary Ensemble, Creative Music Studio, and The New School's
Philip Glass
Institute.The faculty will be comprised of many who already teach at Mannes School of Music and the School of Jazz and Contemporary Music. In addition, artists who perform at The Stone will take on guest faculty roles within the program. Courses such as the Stone Labs are project-based and artist-led, allowing students to create new work alongside Stone artists-in-residence such as Mary Halvorson, Wadada Leo Smith,
Billy Martin
, and many others.Another central element to the ethos of the degree is the application of emerging technologies as a way to advance creative music. "I look forward to working with MM: Performer-Composer students as they explore how they can use specialized tools and innovative approaches to expand their creative practice," said Levy Lorenzo, Assistant Professor of Creative Technologies. "What we want to do is to help students see how they can use creative technologies of the past, present, and future to add to the work that they are already doing." Levy's new course, the BEEP Lab Ensemble, where students build and perform their own synthesizers, exemplifies the kind of experience that will be typical for MM: Performer-Composer students.
The MM: Performer-Composer is a 17-months program that spans the full academic year including summer semester to allow for an intensive and focused approach. With this format, students are able to develop their practice and their voice in a focused and rigorous, yet creative and highly experimental environment.For more information about the MM: Performer-Composer, please visit their
website
.
The College of Performing Arts at The New School (CoPA) was formed in 2015 and brings together the iconic Mannes School of Music, the legendary School of Jazz and Contemporary Music, and the ground-breaking School of Drama. With each school contributing its unique culture of creative excellence, the College of Performing Arts is a hub for cross-disciplinary collaboration, bold experimentation, innovative education, and world-class performances.
As a part of The New School, students across CoPA experience a supportive and rigorous environment that provides abundant opportunities for collaboration with students and faculty in a wide array of disciplines including the visual arts, fashion, design and technology, architecture, philosophy, psychology, public policy, advocacy, and more. CoPA has over 1100 students seeking degrees and diplomas in performance, composition, acting, writing, as well as arts management and entrepreneurship. New York City's Greenwich Village provides the backdrop for the College of Performing Arts, which is housed at Arnhold Hall on West 13th Street and the historic Westbeth Artists Community on Bank Street.
Founded in 1919, The New School was established to advance academic freedom, tolerance, and experimentation. A century later, The New School remains at the forefront of innovation in higher education, inspiring more than 10,000 undergraduate and graduate students to challenge the status quo in design and the social sciences, liberal arts, management, the arts, and media. The university welcomes thousands of adult learners annually for continuing education courses and public programs that encourage open discourse and social engagement. Through our online learning portals, research institutes, and international partnerships, The New School maintains a global presence.
Related Articles
More Hot Stories For You
UK Music Faculty, Student, Alums Take Lifetime Achievement, Other LEXI Awards - UKNow
Posted: 04 Feb 2020 01:00 AM PST
LEXINGTON, Ky. (Feb. 4, 2020) — Two University of Kentucky School of Music faculty, two alumni and one doctoral student were recipients of awards at the sixth annual Lexington Music Awards held Jan. 26, at the Lyric Theatre and Cultural Arts Center.
Everett McCorvey, director of UK Opera Theatre, took home the Lifetime Achievement Award.
Though his roots are in Montgomery, Alabama, McCorvey has been a powerhouse in the Kentucky and national arts scene for around 30 years. A professor of voice and the OperaLex Endowed Chair in Opera Studies, McCorvey serves as UK School of Music's director and executive producer of the critically acclaimed UK Opera Theatre. Beyond UK, as a tenor soloist, he has enjoyed personal critical acclaim and has performed in many prestigious venues around the globe, including the Kennedy Center, Radio City Music Hall, the Metropolitan Opera and Italy's Teatro Communale.
McCorvey, who holds multiple degrees from University of Alabama, also established, directs, and tours nationally and internationally with the American Spiritual Ensemble and is the artistic director of the National Chorale, a professional choral organization that presents an annual choral-orchestral series at Lincoln Center in New York. Many Kentuckians will remember his work as the executive producer for the opening and closing ceremonies of the 2010 Alltech FEI World Equestrian Games, the largest equestrian event in the history of the United States. McCorvey is also vice-chair of the Kentucky Arts Council for the Commonwealth of Kentucky.
Kevin Holm-Hudson, professor of music theory, took home the Jay Flippin Music Education Award. This is his second win in this category and third overall Lexi.
Holm-Hudson, who came to UK in 2000, is the author of "Music Theory Remixed" (Oxford University Press) and "Genesis and the Lamb Lies Down on Broadway" (Ashgate), and he is editor of "Progressive Rock Reconsidered" (Routledge). His articles have appeared in Leonardo Music Journal, American Music, Music Theory Online, Musicae Scientiae, Popular Music and Society, Contemporary Music Review, Ex Tempore, Genre, and National Association of Schools of Music Proceedings. Holm-Hudson has presented his research at international conferences in Australia, Germany, Sweden, Finland, Canada, the U.S., Lithuania, England and France. He has also presented his work nationally at meetings of the Society for Music Theory, (Sonneck) Society for American Music, National Association of Schools of Music, College Music Society and the International Association for the Study of Popular Music.
As a composer, Holm-Hudson's work has been commissioned by the Ancia Saxophone Quartet (Minneapolis), Krannert Art Museum (University of Illinois), University of Illinois Contemporary Chamber Singers, Kentucky Music Teachers Association and Contemporary Theatre of Syracuse.
In addition to McCorvey and Holm-Hudson's honors, musicology doctoral student Elizabeth Varnado won Song of the Year for "Life Is Good" with Lexington band Ivy Rye and alumni Renee and Warren Cobb took home Best Music Company for their work as executive directors of Listen Locally, which engages and shares with arts lovers a variety of ways to listen to local talent in such artforms as music, theater and poetry.
The idea for the Lexington Music Awards came about from Lexington musician and music teacher, David McLean. He intended for the event to be a small gathering, but soon realized that there was much more interest in the event than he originally predicted. To determine the winners of each category, McLean has the public make nominations online. He then narrows down the votes to the top four candidates per category and had individual nominees vote on each category to determine the winners.
For a list of all this year's winners visit the Lexington Music Awards online.
The School of Music at the UK College of Fine Arts has garnered a national reputation for high-caliber education in opera, choral and instrumental music performance, as well as music education, music therapy, composition, and theory and music history.
Eight AU faculty, administrators receive Academic Mentor awards - Ashland Source
Posted: 03 Feb 2020 09:00 PM PST
ASHLAND -- Eight Ashland University faculty and administrators were honored during the University's 34th annual Academic Mentor Awards recognition ceremony held Jan. 31.
The program recognizes faculty whose academic leadership with regard to students extends beyond the classroom. The mentors, each nominated by an Ashland student, were presented an engraved silver plate at the event held in John C. Myers Convocation Center.
This year's Mentor Awards were presented to the late Dr. Iyad Ajwa, Professor of Computer Science, awarded posthumously to his wife Nadia; Dr. Dolly Crawford, Associate Professor of Biology; Dr. Jeffrey Weidenhammer, Trustees Distinguished Professor of Chemistry; Nicole Dyer, Assistant Dean of Student Affairs and Director of Student Life; Dr. Cathryn Chappell, Associate Professor and Director of Quality Assurance and Accreditation; Dr. Mark Rubin, Professional Instructor of Criminal Justice; Dr. Stefan Swanson, Visiting Assistant Professor of Music; and Dr. David Aune, Associate Professor of Religion
Friends, colleagues and family members attended the luncheon, joined by members of Ashland's administration and Board of Trustees. Provost Dr. Amiel Jarstfer welcomed the guests and presided over the event, while also commending the award recipients and the students who nominated them.
The awards were presented by Henry Smith, chairman of the academic affairs committee of the Board of Trustees; and President Dr. Carlos Campo provided remarks.
Students nominated faculty or staff members using the criteria of history of their relationship, how they benefited academically, how their personal development has been enhanced by their mentor and what impact the mentor has had on the student's progress at the University.
Selections were made by the Academic Affairs Committee of the Ashland University Board of Trustees from the information included in the nomination letters.
Students who submitted winning nominations included: Katie Bing, a senior from Wooster majoring in environmental science, nominating Crawford; Abigail Dingus, a senior from Mechanicsburg majoring in biology, nominating Weidenhammer; Cillian Donahue, a senior from Strongsville majoring in forensic biology, nominating Dyer; Kendra Wisdom, a Doctor of Education student from Ashland, nominating Chappell; Camille Pollutro, a senior from Painesville majoring in criminal justice, nominating Rubin; Sami Eron, a senior from Brighton, Michigan majoring in political science, nominating Swanson; Kyle Hutchinson, a senior from Medina majoring in psychology, nominating Aune; and Jonathan Meredith, a senior from West Salem majoring in computer science and Renee Lucas, a senior from Seven Hills majoring in computer science, both of whom nominated Ajwa.
Ajwa, who passed away Aug. 30 after a battle with cancer, joined Ashland University as an Assistant Professor in 1997. He was the recipient of a Fulbright Award for the 2013-2014 academic year during which he taught and conducted research at Umm Al-Qura University in Saudi Arabia.
In 2005-06 he was granted a Senior Study Leave to teach at Abu Dhabi University. Ajwa's scholarly record included numerous peer-reviewed articles, grants and contributed papers. He served as Chair of the Department of Mathematics and Computer Science from 2014-2019 and developed the curricula for new majors in cybersecurity and software design and development.
Crawford joined Ashland University in 2014 and teaches courses in anatomy and physiology, general biology, field zoology, geographical information systems and vertebrate biology. She works with students in the Crawford Lab, which is focused on research in wildlife ecology and animal physiology.
Crawford holds a Bachelor of Arts in Biology from Mansfield University of Pennsylvania, a Master of Science in Museum and Field Studies from the University of Colorado at Boulder and a Doctorate in Biology from the University of New Mexico.
Weidenhammer joined Ashland University in 1989 and teaches General Chemistry, courses in analytical chemistry and core science courses including Science as a Cultural Force and Lead and Civilization. His research with students and colleagues on lead contamination of consumer products has resulted in at least 14 recalls by the Consumer Product Safety Commission.
Weidenhammer has a Bachelor of Science in Chemistry from Ashland University, Master of Science degrees in Agronomy from The Ohio State University and Analytical Chemistry from Louisiana State University and a Doctorate in Biology from The University of South Florida.
Dyer, who joined Ashland University in 2001, serves as Assistant Dean of Student Affairs and Director of Student Life where she oversees student activities, student organizations, orientation, Greek Life, community service, commuter services and leadership programs. She has a Bachelor of Arts from Ashland University and a Master of Education from Cleveland State University.
Chappell joined Ashland University in 2004 and teaches graduate education courses. Her areas of expertise include assessment, multicultural education, peace education, and social justice issues, while her primary areas of scholarship include post-secondary prison education and libraries as community centers.
Chappell received a Bachelor of Arts in Psychology and Master and Doctor of Education degrees in Social and Psychological Foundations of Education, all from the University of Cincinnati.
Rubin Joined Ashland University faculty in 2017 and serves as director of the Online Criminal Justice program as well as being a professional instructor in the program. With nearly 30 years of law enforcement experience, Rubin specializes in policing, homeland security, criminology, and cybercrime and human trafficking. He received a Bachelor of Science from the University of Houston, a Master of Education from Western Governors University and a Doctorate from Capella University.
Swanson is a film and concert composer who has scored more than 50 films and has written more than 60 compositions for the concert hall, including commissions from the Harmonium Choral Society, Lakeland College, and JJ Cooper. The recipient of the Susan and Ford Schumann Award, the Film Music Museum Award, and the Singing City Prize, Swanson received a Bachelor of Music from Rowan University, a Master of Arts from New York University and a Doctorate from Rutgers University.
Aune, an ordained minister in the United Church of Christ, joined Ashland University in 1996 and teaches a variety of courses, including Exploring the Bible, Exploring World Religions, Life and Letters of Paul, Understanding Islam, Advanced New Testament (The Gospels) and Christian Literature. His research interests include nonviolence in early Christian literature and inter-religious dialogue
In nominating the recipients of this year's Mentor Awards, the students wrote one-page essays about their mentors. Passages from these essays were distributed at the luncheon.
Bits & Bytes: First Fridays Artswalk; 'The Organ Masters'; Heart Night; Claiming Williams Day; PAWS Read-A-Thon | - theberkshireedge.com
Posted: 03 Feb 2020 02:26 PM PST
First Fridays Artswalk to kick off 2020 Artswalk season
Pittsfield — The Feb. 7 First Fridays Artswalk will encompass almost a dozen art shows featuring over two dozen regional and student artists in Pittsfield's Upstreet Cultural District from 5 to 8 p.m. The Artswalk will kick off with opening receptions and artists present throughout, plus a free guided walking tour beginning at 5 p.m. at the BRTA Intermodal Center.
The Ten Spot Sculpture Show at the Lichtenstein Center for the Arts will have a preview reception from 5-8 pm. Part of the 10×10 Upstreet Arts Festival, the Ten Spot show features contemporary artists with a different focus each year. This year's focus is three-dimensional art. An opening reception will take place Thursday, Feb. 13, from 5 to 7 p.m., and the show will be on view through Saturday, Feb. 29.
For the month of February, the Marketplace Café will display photographs by Emily Johnson of Monterey drag queen Boxxa Vine, featuring costumes she's made and makeup she's done. A self-taught seamstress, she now mainly works making custom costumes for drag performers, theatre, and beyond. There will be a reception with Boxxa Vine Friday, Feb. 7, from 5 to 8 p.m.
"If You Remember, I'll Remember," artworks by Kelsey Sherman, will be on view at Massachusetts College of Liberal Arts' Pittsfield branch, 66 Allen St., through Monday, Feb. 24. Sherman explores themes of grief, loss, and death through the creation of drawings and typefaces. A reception with the artist will take place Friday, Feb. 7, from 5 to 7 p.m.
New shows from local artists will also be displayed at Berkshire Museum, TKG Real Estate, Dottie's Coffee Lounge, Hotel on North, Berkshire Paint and Sip, Unitarian Universalist Church, and the Brothership Building window. For more information, contact Downtown Pittsfield Inc. at (413) 443-6501.
–E.E.
*     *     *
'The Organ Masters' to celebrate the music of Bach
Housatonic — On Saturday, Feb. 8, at 2 p.m. at the Unitarian Universalist Meeting of South Berkshire, Berkshire Bach Society will present organist Renée Anne Louprette in a recital of music by J.S. Bach in its "The Organ Masters." Also at this year's concert, Louprette's husband, musicologist and Bach specialist George B. Stauffer, will provide insight into Bach's organ music, introducing the individual works on the program and tracing the development of Bach's style.
Hailed by the New York Times as "one of New York's finest organists," Louprette has an active international performance and recording career. Her program includes four of the Great Eighteen Chorale Preludes, BWV 651–668 that she recorded on the Metzler organ at Trinity College, Cambridge, in 2014. Other works on the program include the rarely-heard Pastorella, BWV 590; the Prelude and Fugue in D minor, BWV 549a; the Fantasia and Fugue in C minor, BWV 537; and the Allegro from the Concerto in C Major ("Il grosso mogul"), BWV 594.
Stauffer is the author of several well-regarded books including "J.S. Bach: The Mass in B Minor" and "The World of Baroque Music," and is currently at work on a book analyzing Bach's organ music. He also had a performance career, studying organ at the Juilliard School, and serving as university organist and chapel music director at Columbia University.
Tickets are $25 general admission, $20 for Berkshire Bach Society members, and free for youth under age18 and students with ID. A reception will follow the concert. For tickets and more information, see the Berkshire Edge calendar or contact Berkshire Bach Society at (413) 528-9555 or info@berkshirebach.org.
–E.E.
*     *     *
Heart Night to raise awareness of heart disease
Great Barrington — Fairview Hospital will hold its annual Heart Night Friday, Feb. 7, from 5 to 8 p.m. at Berkshire South Regional Community Center. Launched by Fairview's critical care nurses in an effort to raise awareness of heart disease, Heart Night is designed to give participants their own working plans for heart health and better health in the coming year.
At 5 p.m., Dr. Adrian Elliot of Fairview's emergency department will speak, followed by Maureen Daniels, director of Berkshire Health Systems' wellness program. After the presentations, information tables, screenings, food tastings and education will be offered. The evening will also educate participants on the signs of heart attack and what to do if they are experiencing the symptoms. There will be a raffle for attendees of the program, including a massage by Emily Wagner; kayak lessons; many gift baskets; and a grand prize of tickets to March Madness in Albany Monday, March 19, donated by Berkshire Bank.
The event is free and open to the public. Interpreter services will be available. For more information, contact the Fairview Hospital Community Relations Office at (413) 854-9609.
–E.E.
*     *     *
Claiming Williams Day to highlight diversity and inclusion
Williamstown — Williams College will hold its annual Claiming Williams Day Thursday, Feb. 6, with events throughout the day that encourage critical thinking about diversity, equity, and inclusion. For the past 11 years, Claiming Williams Day has raised awareness of historical and contemporary efforts to make Williams more accountable to its various communities, especially underrepresented and underserved groups.
While most of the events are open only to the Williams College community, three events are open to the public: Anthony Jack, sociologist and assistant professor of education at Harvard University will kick off the event Wednesday, Feb. 5, at 7:30 p.m. in Chapin Hall with a lecture titled "The Privileged Poor"; "Reinventing ReEntry: Post-Incarceral Simulation Experience," a workshop that looks at the challenges that former inmates face following their release from prison, will be held Thursday, Feb. 6, at 3:45 p.m. in Greylock Hall; and Hoda Katebi, a Chicago-based Iranian-American fashion blogger, writer and activist who promotes garment workers' rights and ethical fashion production, will deliver a lecture titled "Decolonizing Fashion from Tehran to Boston," at 7:30 p.m. on the '62 Center's MainStage,.
For building locations on the Williams campus, consult the online map or call the Office of Communications at (413) 597-4277.
–E.E.
*     *     *
Berkshire Humane Society opens PAWS Read-A-Thon to all Berkshire County students
Pittsfield — Berkshire Humane Society will open its annual PAWS Read-A-Thon to all students in pre-kindergarten through eighth-grade students in Berkshire County for the first time in the event's five-year history.
During the event, children find sponsors to pledge an amount to donate to Berkshire Humane Society for each minute the child reads during March, which is National Reading Month. Prizes are awarded to top readers and schools in various categories. Each child enrolled in the read-a-thon will receive a Berkshire Humane Society goody bag.
In the past, Berkshire Humane Society worked with a handful of local schools for the read-a-thon. Home-schooled children, scouting and other civic groups and youth organizations, especially those engaged in service projects, are encouraged to participate.
Participation materials are available online and the deadline to apply is Monday, Feb. 10. For more information, contact Lizzy Filkins at (413) 447-7878 x129.
–E.E.
Get link

Facebook

Twitter

Pinterest

Email

Other Apps
Popular posts from this blog
Talk of the Towns: Feb. 6, 2020 - The Recorder
Talk of the Towns: Feb. 6, 2020 - The Recorder
Bethlehem Library Notes for Wednesday, February 5, 2020 - The Altamont Enterprise
Cellist Eunghee Cho and friends to perform romantic Valentine's Day concert - Davis Enterprise
John Michael Kane, 81, led young adult music programs for decades - Port City Daily
Talk of the Towns: Feb. 6, 2020 - The Recorder
Posted: 05 Feb 2020 02:33 PM PST Athol
Smoking Cessation:
Led by Tim Sweeney, tobacco treatment specialist. Meets Mondays, 6 to 7 p.m. Athol Hospital's cafeteria. Colrain
"Love Colrain"
Valentine's Day lasagna dinner will be served Feb. 14 at the Shelburne-Buckland Community Center, 53 Main St. in Shelburne Falls. The Colrain Historical Society is accepting reservations until Monday, Feb. 10. The dinner, created by chef Kevin Hollister from his own recipes for both meat and vegetarian lasagna, will be served buffet style from 6 to 7:30 p.m. The meal will include salad, rolls, …